Filling Station: A must see Retro Diner in Poblacion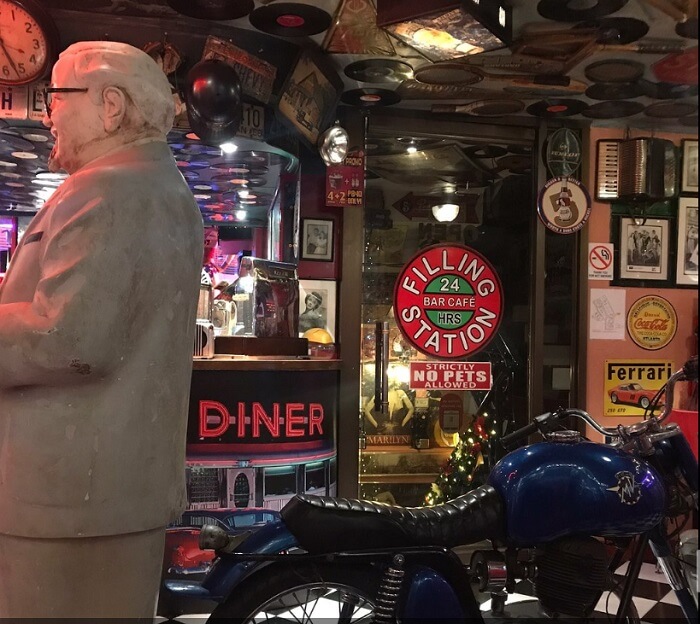 I've always loved retro as much as I love their fashion. And if you like the 50's diner ambiance or you just want to hang out with your friends and play billiards and drink the whole night then the Filling Station Bar Cafe is perfect for you. It is a reminiscent of american diners that I keep seeing in movies like Grease or Back to the Future.
They are located right in the Red Light District in Makati. It can be easily overlooked because most of the surroundings are bright and flashy. They might use a bigger, brighter and flashier logo so they are more noticeable. One thing I've noticed is there's not a lot of parking spaces if you are going by car.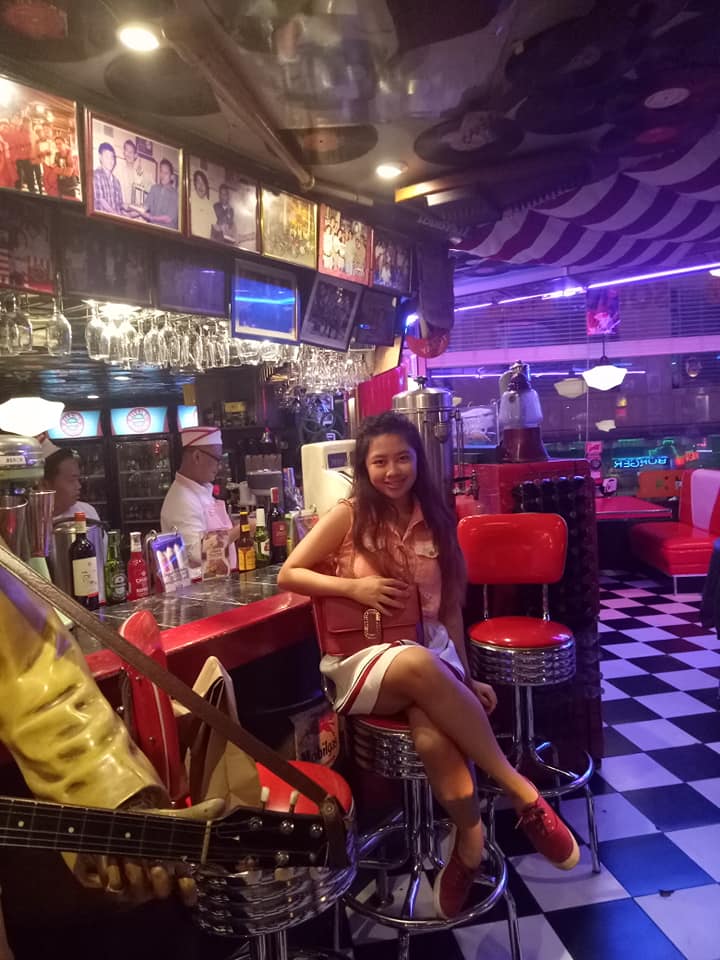 A 50's Diner Vibes
The interior of the whole place is filled with an impressive collection of vintage stuff. Black and White tiles are decorating the floor. Movie Posters, Photos of Iconic Hollywood Stars are plastered all over the wall. Jukeboxes, life-sized statues of superheroes and even Elvis Presley, gasoline dispensers, telephones and even the old black and white box TV are right there.
A model of vintage cars and even motorbikes which is a great place to take photos by the way! It is one of the instagram-worthy places you wouldn't want to miss. I just love the whole atmosphere of the place, it is very retro not to mention music from 60's-80's. Even the crew are dressed in vintage clothing and the girls are wearing polka-dot skirts.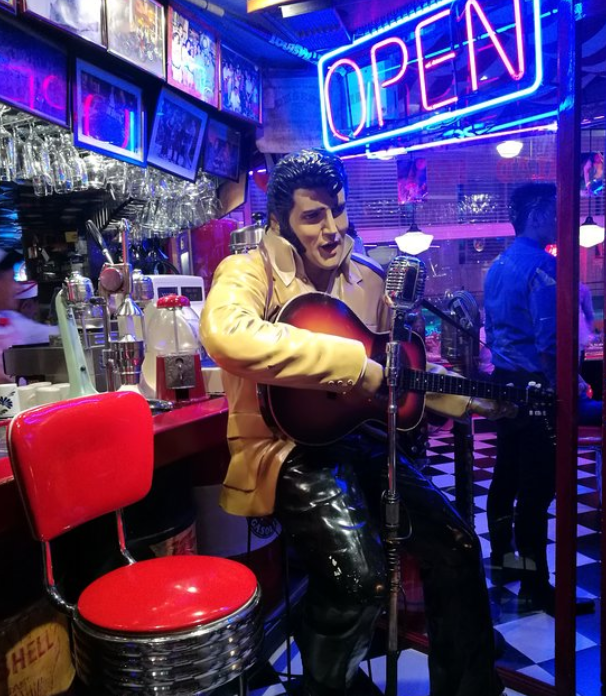 A life-sized statue of Elvis in the bar
All Your American Favorites
The menu mostly consists of american favorites pizza, pasta, steaks, burgers, nachos, milkshakes, cocktails, beers and all sorts. Mostly are american but they also serve filipino food like Tilapia, Sinigang and Sisig! They offer breakfast, lunch and dinner 24 hours.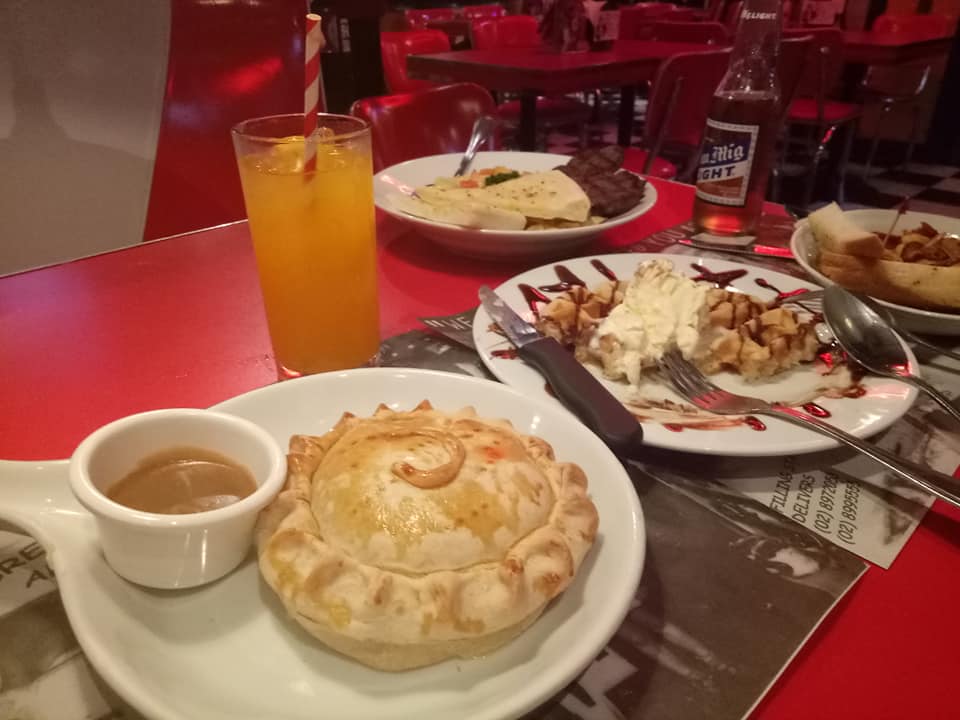 Their classic waffles (PHP 295) look really good and I got to have it even though it is dinner time. I also tried their Baked Chicken Pie (PHP 298) which did not disappoint. Their Presley Pasta (PHP 573)is also great served with beef tenderloin. I also ordered a screw driver (PHP 223) because it is a Saturday night out!
As for drinks, it starts around PHP 112 for locals and around PHP 220 for important beer. Their cocktails are around PHP 220 as well as for the scotch, whiskey and rum. They have a HAPPY HOUR between 3:00pm – 7:00pm, so make sure not to miss that.
Summary
Their menu can be a little pricey. A dinner for two approximately cost around PHP1500-PHP3000. But I can guarantee that it is worth it! They serve enormous portions that I had to take out my leftovers. They have excellent service, the crew are attentive and they don't have service charge. Make sure to give them tips!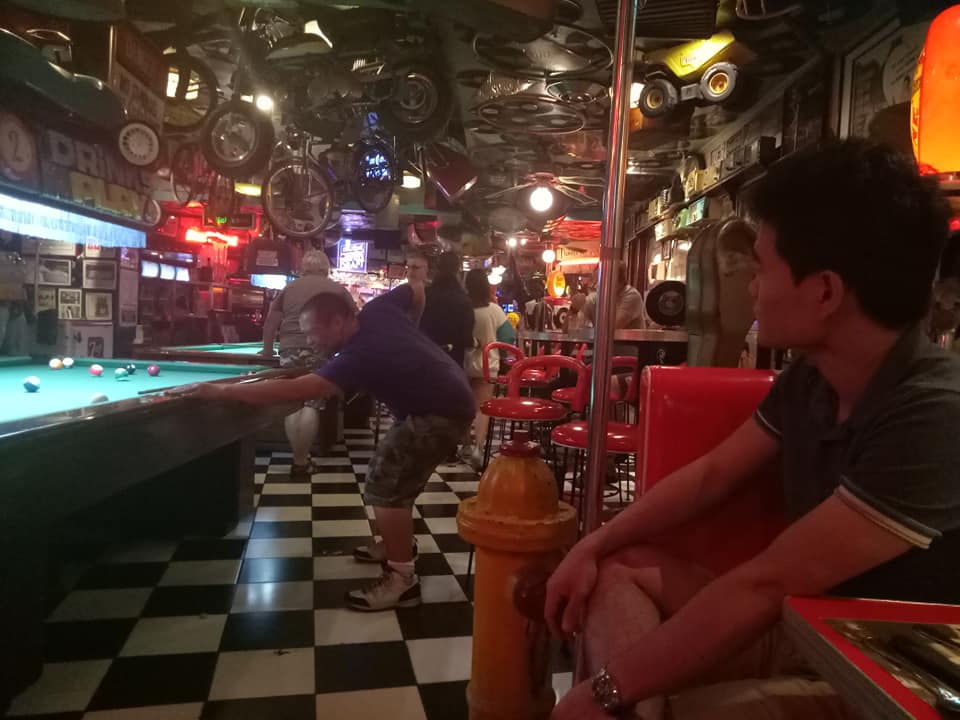 A Pool Table in Filling Station
Filling Station is a cool place to hang out with your friends and even colleagues. They are open 24 hours. Not to mention that it is an instagrammable place! You can drink, play games (like billiards!) or you can just sit, drink and enjoy the music. It's the best of both worlds. The place is quite laid back and you can definitely relax and have the time of your life.
2 responses to "Filling Station: A must see Retro Diner in Poblacion"