Updated Basic Skincare Routine (Ellana, Cosrx, Innisfree, Celeteque)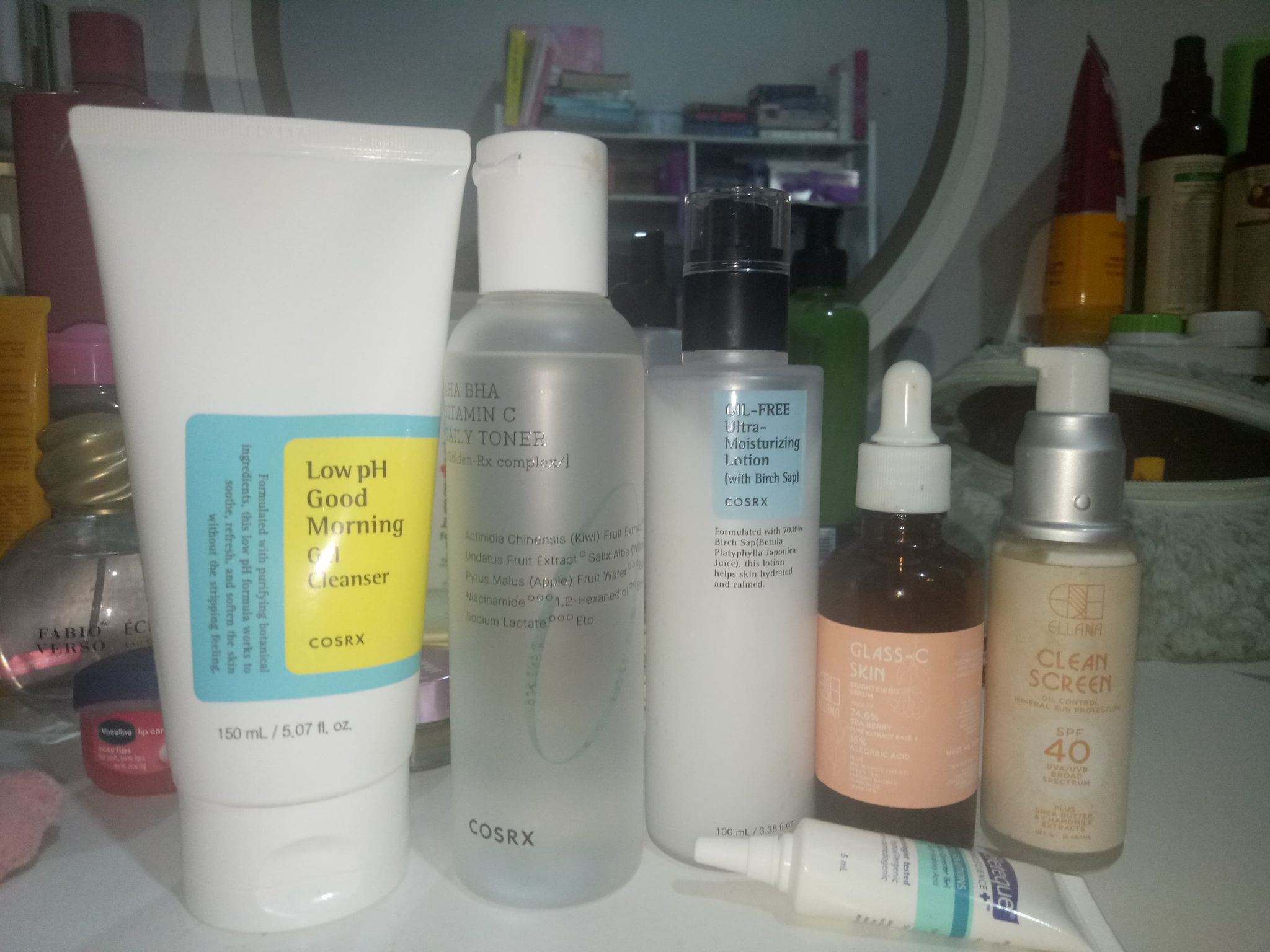 I have experimented in skincare lot ever since I started working. Commuting every single day takes a toll on my skin. I knew I have to give it extra care. I tried a lot of brands, mostly cheap brands until I realized that I really need to invest in them to get the best results.
I also realized that sticking only with the basics is just enough. So I am only doing cleanser, toner, vitamin c serum, acne gel (if necessary), moisturizer, and sunscreen. So without further ado, here are is my skincare routine.
Cleanser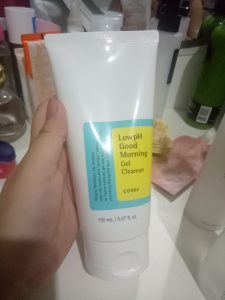 I wash my face 2-3 times a day. Every single morning, I start by using a gentle cleanser. In this case, I use the COSRX Low pH Good Morning Gel Cleanser. I have also tried the other variant of their cleanser, the Salicylic Acid Daily Gentle Cleanser.
Now, why choose a Low pH cleanser? You know the feeling whenever you wash your face and it feels so tight? Yeah, that's not good at all. You end up doing more damage since you lose its water and moisture causing dry, tight skin.
Most beauty enthusiasts and even experts recommend using a low pH cleanser since they help to keep your skin balanced and hydrated.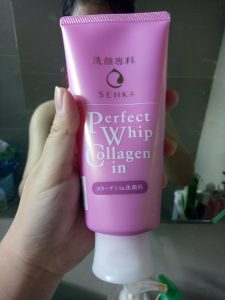 In the afternoon, especially if I can feel that it is really oily, I do a second wash using the same cleanser. However, at night, I would use Senka's Perfect Whip Collagen In.
I don't do a double cleanse especially since I stopped wearing makeup anymore (because of the pandemic). But I felt like I needed an effective cleanser that would help remove dirt that has accumulated throughout the day.
Toner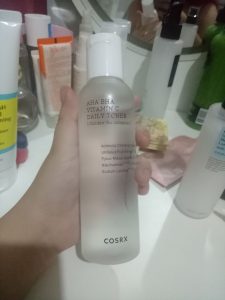 Right after cleansing, the next step is using a toner. I use another COSRX product, the AHA/BHA Vitamin C (ABC) Daily Toner.
What is even the use of toner? Usually, it's a second cleansing step to make sure you can eliminate any last trace of dirt, grimes, or any other impurities in your face.
Why choose AHA/BHA?
AHA stands for alpha hydroxy acid. It causes dead cells to detach and go away from your skin which makes this ingredient perfect for dry skin. On the other hand, BHA is more oil-soluble which makes it better for oily skin. I use AHA/BHA since I have a combination skin type (meaning some surface is dry and some areas are oily, mostly my T-zone.)
Moisturizer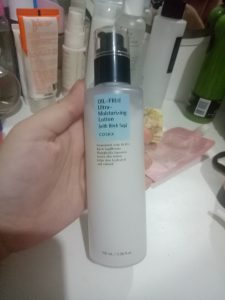 Right after toner, the next thing I put in is a moisturizer. I think moisturizing should be part of anyone's routine. I use the COSRX Oil-Free Ultra-Moisturizing Lotion. 
It is imperative that I use a moisturizer to keep my skin hydrated. I started using a moisturizer when I was 12. I remember that I use the Olay White every morning and every single night. It's one of the reasons why my face remains healthy and supple.
Vitamin C Serum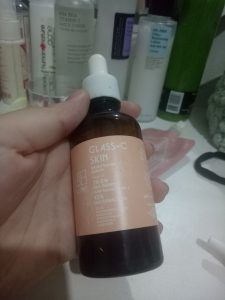 Right after moisturizing, I put on my vitamin c serum. I use Ellana's Glass-C Skin+ Brightening Serum With 5% Vit C And 1% HA. 
This specific serum is best for acne-prone skin and helps remove scars or dark spots. They said the ingredients in this product help the natural production of collagen in the skin and helps fade pigmentation.
I personally love Ellana Products and I know I have mentioned it in my previous beauty-related articles. They are one of the only local brands that are cruelty-free (meaning they don't test on animals!) and even safe for pregnant women!
Sunscreen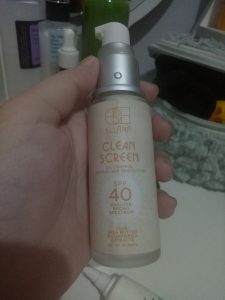 Aside from Ellana's serums, I also use their Clean Screen SPF40 Oil Control Mineral Sun Protection. Most beauty experts agree that using sunscreen should be a part of anyone's skincare routine. Even if you are not actually going to spend your day outside, it is extra care to put one.
As we all know, sunscreen helps reduce our overall UV exposure and lowers our risk of skin cancer and sun damage. Even if you don't actually go outside, your computers and phones may emit UV light. So it's better safe to be sorry!
Anyway, Ellana's sunscreen is extremely light. Unlike other sunscreens, this one does not leave white casts on my skin. Which feels great! I always feel icky if the formulation is too thick!
Extra Skincare for Maximum Benefit
Clay Mask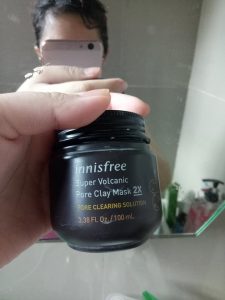 Before restarting the week, I usually pamper myself by using Innisfree Super Volcanic Pore Clay Mask 2x. My Sunday evening would not be complete without this. So after cleansing, I would dry my face up and put these on my face.  Waiting for 10-15 minutes until it dries before removing it.
Then I'll usually just do the rest of my skincare routine toner, moisturizer, etc.
Lip Scrub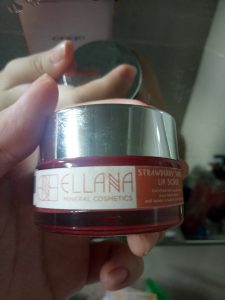 Like the pore clay mask, I only use a lip scrub once a week to remove extra dead skin on my lips. As a kid, I use to peel off dry skin off my lips and it would usually leave it bleeding. It's a bad habit that took years for me to stop.
Instead of peeling it off, I use Ellana's All-Natural Strawberry Sugar Lip Scrub. I love the smell of this lip scrub and I couldn't resist actually licking for a taste.  Don't worry, it is safe but try not to consume it all. It tastes exactly like its name. Sugar and strawberries.
To get rid of dry, chappy lips, I also put on lip balms and Ellana has a pretty good selection of lip balms.
Acne Gel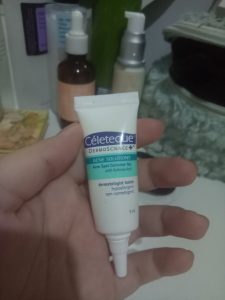 There will be days where we will find unwanted pimples on our faces. And I know it is extremely tempting to just pop them. But popping them makes it worse and would usually leave scars that last for months!
I really try my best not to touch them. After doing my usual routine, I put on an acne gel and in this case, I use Celeteque's Acne Solutions Acne Spot Corrector Gel.
And to further avoid the temptation of popping them, I top it off with a pimple patch. I use COSRX's Acne Pimple Master Patch. I leave them on overnight and they are flattened and dry on the next day!

I know these may seem a lot but trust me, this is nothing compared to the 10-step skincare routine that other people do. But the reason why I take extra steps is that I normally don't go to derma to have monthly facials. I didn't find them necessary for myself yet. I figure this is the next best step. Though my skin isn't perfect it is reaping the benefits from the products that I use.
I am quite satisfied with my face and its current state. I usually suffer from insomnia and I would sleep late. We all know that a lack of sleep can cause damage to our skin. But I still try to make sure I have enough and I make sure that I drink plenty of water!