The Bangkok Experience: 1 week in Thailand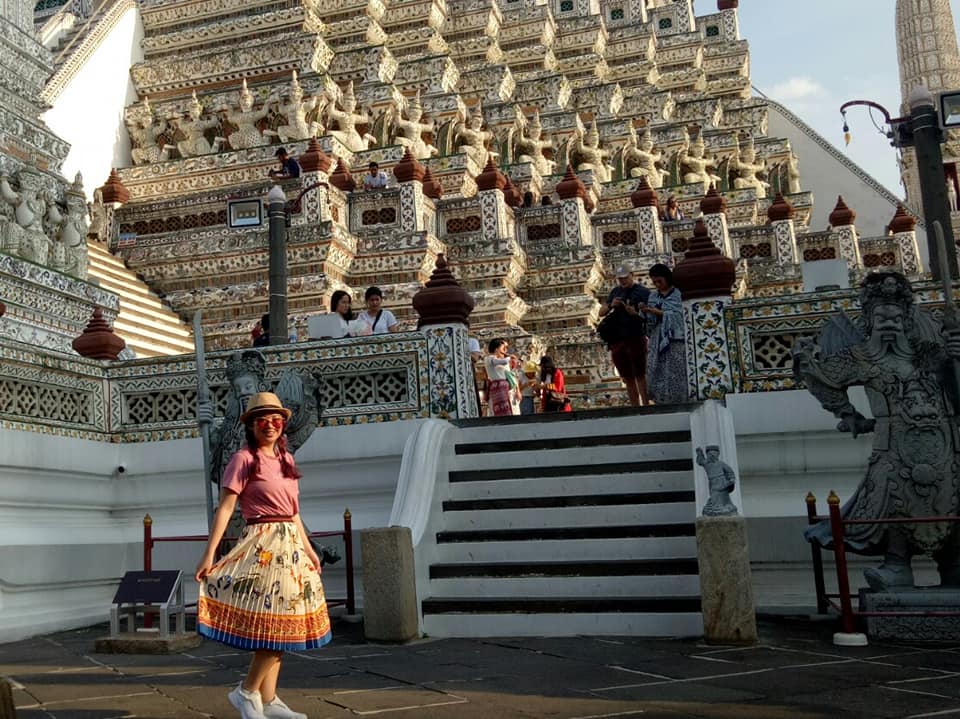 Thailand is one of the most popular tourist destinations in Southeast Asia. The country is also known as the Land of Smiles. I recently had the opportunity to visit Bangkok and finally experience eating authentic Thai dishes, which is one of my favorite cuisines.
What You Will Need
I pre-booked everything that I will need in Bangkok through klook and if you are visiting, I suggest you do the same.. In order to make sure I wouldn't get lost or deal with the hassle of finding a taxi cab to my hotel, I just booked private transportation through Klook.

If it seems to be too expensive, you can try their airport rail link to the city.
Get Tickets to Airport Rail Link To Bangkok
Rent Wifi or Get Sim Card
Make sure you are connected throughout your stay in Bangkok. That way you'll have no problem using translators, google maps, grab app or even updating your friends!
Get Your Wifi Here
Get Your Bangkok Sim
Where to Stay In Bangkok
I have a Thai friend who strongly recommended that I stay in the Sukhumvit area preferably nearby Train Stations. I'm glad I listened to her because if you're nearby the stations, you can basically go anywhere.
I stayed in a hostel called The Little Pig Sukhumvit which is 5 minutes away from Gateway Mall and Ekkamai Train Station. Hotels are relatively cheap and affordable in Bangkok.
You can browse some good accommodations in Bangkok through agoda.
Currency in Thailand
The exchange during the time I visited was 1 baht = 1.68 Philippine Peso. While 1 USD = 30.20 baht.
Commuting in Bangkok
Thankfully getting from one place to another is fairly easy. You have many options. You can either take the bus, the taxi cabs or the train (which is btw the best option for you). They also have Grab in Bangkok but one thing I realize is how much time you're killing when you are on the road because of the traffic. For me, it's best to use the train.
Get Your Sky Train Pass Here
They also have tuk-tuk mostly around the tourist areas but they are known for hiking up the prices. Once, a Tuktuk driver offered 200baht from the Grand Palace to the Pier. We didn't realize we've been scammed because the ride didn't even last for 5 minutes and you could have just walked there.
Wandering in Bangkok as a Tourist
I had a smooth flight from Manila to Bangkok. As soon as I stepped out of the airport and rode through the streets of Bangkok, one thing I noticed is how similar it is to Manila. It has the same atmosphere of busy streets, terrible traffic and a lot of tourists.
But the city has its own charm. It's busy, it's vibrant and colorful. There are plenty of places to go to and you won't feel so bored. I cannot recall how many times I've seen beautiful temples and this is just in Bangkok. Food is also abundant in every corner both street food and restaurants.
Famous Tourist Spots
Chao Praya River
Chao Praya is one of Bangkok's major rivers and most of its tourist spots are located in this area. In order to hit all of them, you'll need to get on a boat. The best way to enjoy them is to use the Hop On/ Hop Off  Sightseeing Boat.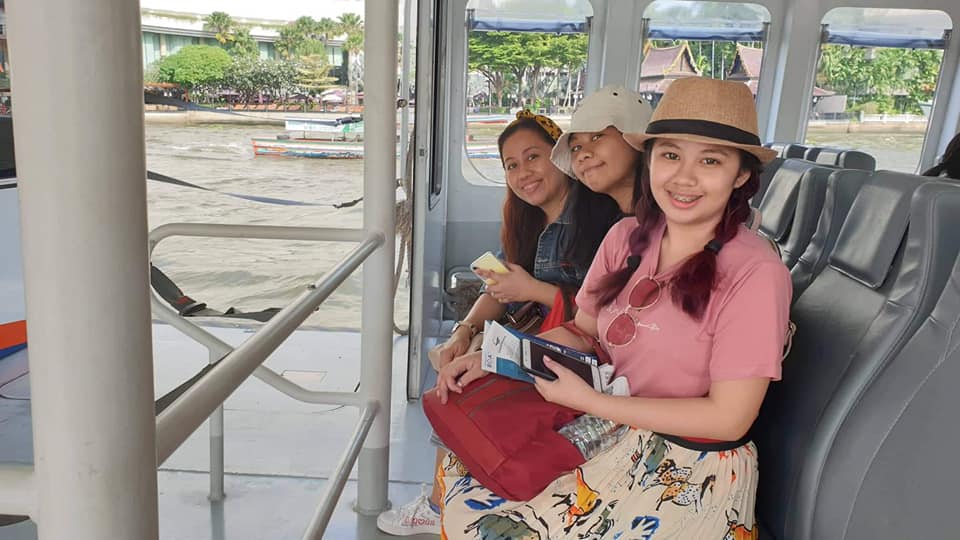 Get Your Hop On Hop Off Day Pass Here
The Grand Palace
This is probably the most famous landmarks in Thailand. This complex of colorful building is located at the heart of Bangkok and is also known as the official residence of the Thai King.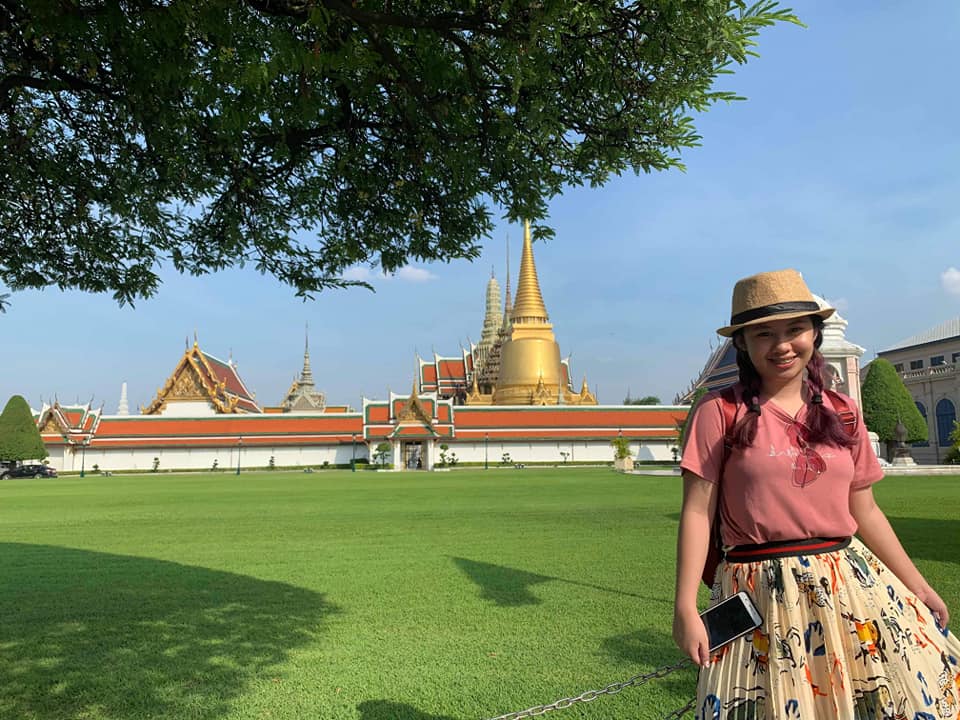 Wat Arun
Also known as Temple of Dawn. It's unique architecture makes it one of the most beautiful temples that you can visit. It's best to visit the temple during sunset and even at night when it is lit up.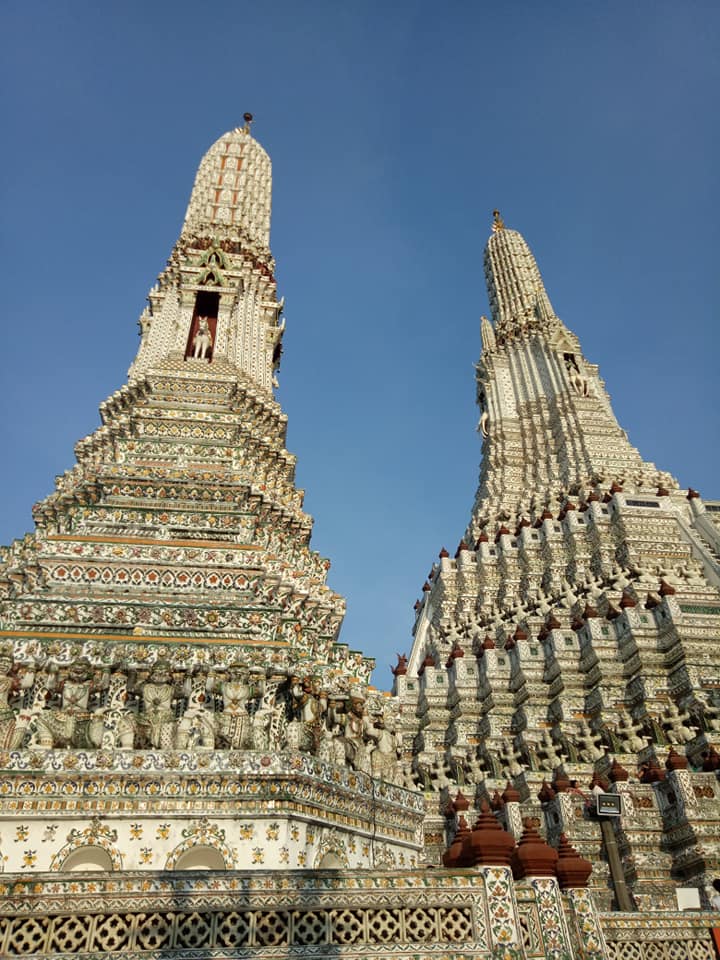 Note: When visiting temples, you should be aware of the proper attire. Ideally, shoulders and knees should be covered for both men and women. Tattered jeans, gym/yoga pants are also not allowed. If you don't have the proper attire, you may buy it at a store near the temple.
To be honest, temple hopping is quite exhausting. I was sweating all day. Make sure you are wearing sunscreen since it can be really hot during noon and a bottle of water to keep yourself hydrated!
Khao San Road
This area is known as the hub of backpackers and the youth in Bangkok. It is best to visit this during the night since it is more lively and active. The whole area is filled with bars, restaurants, clothing stores, souvenir shops, street food and basically everything to keep yourself entertained.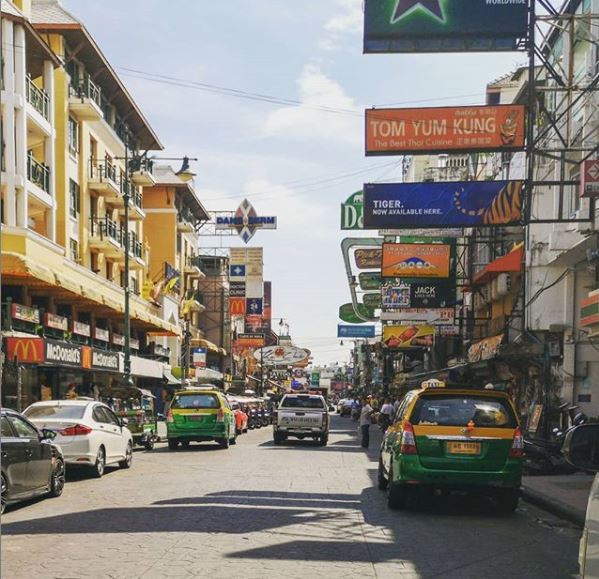 Floating Markets
There are tons of Floating Markets in Bangkok. One of them is the Damnoen Saduak Floating Market. Here you can experience a tour in a longtail boat where you can eat authentic Thai food, buy cheap souvenirs and delicacies.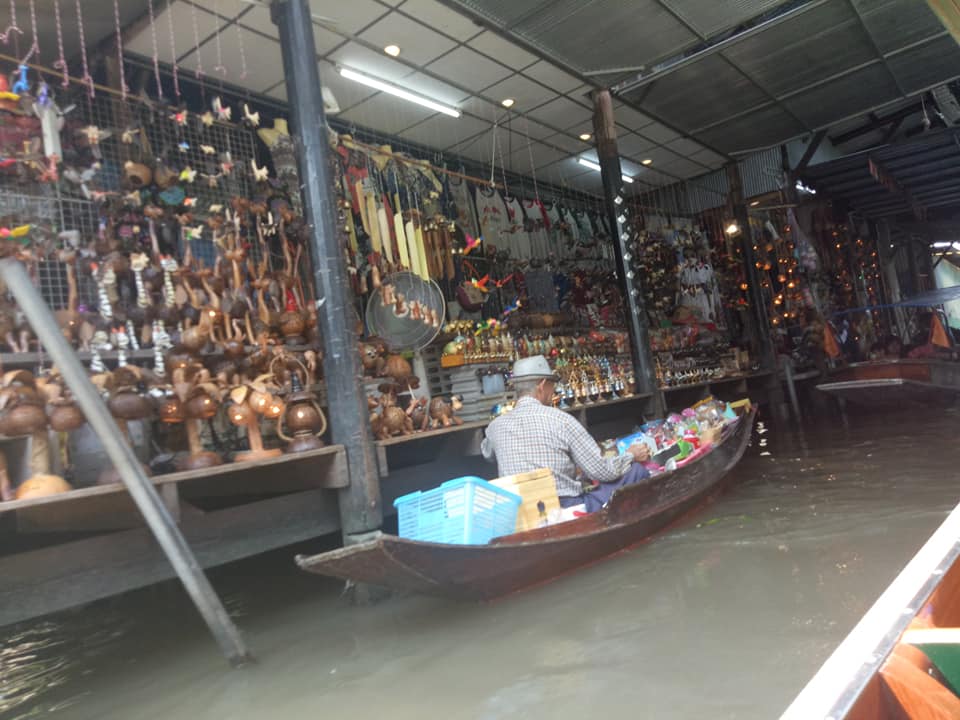 Get Your Floating Market Tour
It's a one-of-a-kind experience here in Thailand. Though it can also get traffic in the waters and when you are eating, flies are everywhere so you have to keep swatting them away. Prices are generally higher than normal since locals know this place is a tourist spot.
You may find it difficult to bargain since they are cannot be easily persuaded. Like what they said "It's not about the price. It is about what you give me".
Aside from the shops, there are also cool places to check there such as Elephant Attractions, Long Neck Villages, Cobra shows and more temples. You will need to spend a day touring them all here.
Siam Paragon
Another famous tourist spot in Bangkok is the Siam Paragon. It is a luxury mall with over 250 stores with brands including  Louis Vuitton, Prada, and Versace. Siam Paragon is located near the Siam BTS Skytrain Station.
Central World
Central World is one of the largest malls in Thailand. Generally, a good place to shop, dine, relax and have a good time. It is located near Chidlom BTS Skytrain Station.
Things You Should Beware Of
I did my research before I even planned the trip here. Since Bangkok is filled with tourists, there will be a lot of people there that would take advantage of that fact. Here are some
The Grand Palace is closed Scam
Many tourists fall for this scam every day. A local might approach you then have a small talk asking where you are going. If you happen to mention the Grand Palace, they will say the Palace is closed today for a special event. Then he'll offer you to ride the tuk-tuk and take you to other temples.
Travel Deal Scam
He'll also take you to a tourism agency that will offer exclusive travel deals that are ending soon. But chances are, you'll probably pay more than the other agencies.
Jewelry Shop Scam
Another scam that might occur when you go with a tuktuk driver is when they take you to a  Jewelry Shop and show you beautiful gemstones and will push you to buy. Most of the time, these gems are just colored glasses and have little value. Do not succumb if they are being pushy. Just smile and say no.
Conclusion
Bangkok feels so similar to Manila. You'll feel that it's exactly like our country except for the fact that I cannot read their script nor understand their language. The city's quite lively and busy. Plenty of shopping malls as well. But you'll also be surprised that there are plenty of Filipinos there too.
One thing that I love about the city is their Trains. You can basically go anywhere using the train. It is so much better than riding the car.
Thai food has always been one of my favorites. You won't find it difficult to eat there. Food is generally affordable, you can find them anywhere, even restaurants. But if you feel like you're missing familiar food like KFC, Burger King or MCDonalds, don't worry because Grab Food and Food Panda is available.
Where To Go Next?
I spent 2 whole days in Bangkok wandering around the city and exploring the streets. I think 2-3 days is enough if you want to see more than just the city. Since Thailand is a big country, it has a lot more to offer like the famous Phuket, Phi Phi islands, Pattaya and even Chiang Mai.
You can also cross-country from Bangkok to Siem Reap, Cambodia.
Get Your Bus Ticket From Bangkok to Cambodia